Hello. I'm Teddy3productions.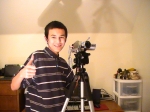 Last Login:
2746 days ago
Signed up:
4687 days ago
Profile Viewed:
3020 times
Name:
Teddy, Greg, Nate Shangin, Pollard, Yelmene
Age:
32
Gender:
Male
About Me:
Its us Teddy, Greg, And Nate please check out the videos on our website and youtube. Leave a comment on our videos!
Website:
www.Teddy3productions.com
Hometown:
Alaska,North Carolina
Current City:
Alaska