Hello. I'm 5_Animal_Kung_Fu.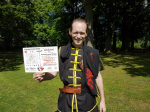 Last Login:
861 days ago
Signed up:
861 days ago
Profile Viewed:
580 times
Name:
Shifu Patrick van Steen
Age:
36
Gender:
Male
Relation:
Single
About Me:
My title and name is Da Shi or grandmaster Patrick van Steen from the Netherlands. I was a personal martial arts student under grandmaster Christopher Fournier from the USA. I learned the southern Chinese martial arts style of Ng Ying Kuen, Ng Ying Kungfu aka 5 Animal Kung Fu or Five Animal Kung Fu. The Martial Arts of Ng Ying Kungfu was a secret style but in the year 1993 shifu Christopher Fournier decided to teach the art to the public. I also received a warrior name which is Long Juan Feng or shortened Long Feng which can be translated as Rising Dragon. I run a martial arts academy in the Netherlands where i teach Ng Ying Kungfu and Tai Chi Chuan. Ng Ying Kung Fu is very effective and was traditionally a combat system of the Nan Quan (southern styles).
Website:
https://kungfu-apeldoorn.jimdofree.com
Hometown:
Gelderland
Current City:
Apeldoorn
Country:
Netherlands